---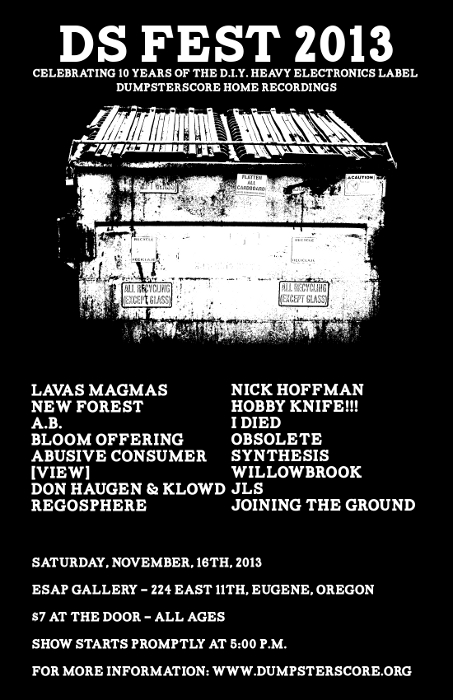 Facebook event page - https://www.facebook.com/events/210874029094770/

Saturday, November, 16th, 2013

At: ESAP Gallery - 224 East 11th, Downtown Eugene, Oregon

Show starts promptly at 5:00 PM

$7 at the door - All Ages

Drinks available by donation from the venue.



---

LATEST NEWS (10/1/13):

HEY! 5 new releases are now! Check out the first four tapes in our new ongoing C-20 series as well as a new collaboration E.P. by Juice Machine and Regosphere. Act fast and you can also get a special edition test press of the Regosphere / Vomit Arsonist split 7" with a bonus collaboration 3" CD-R and special packaging. DS FEST is happening to celebrate 10 years of the label will be held in Eugene, Oregon on Saturday, November 16th at the ESAP Gallery on 224 East 11th downtown. More info soon! As always, PLAY LOUD!



---
---
---